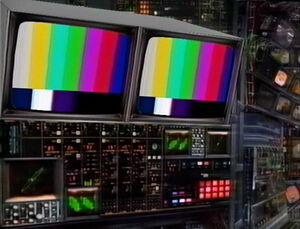 Lead-Free TV was a concept for a segment of The Jim Henson Hour developed by Jim Henson. Based somewhat on Henson's previous Inner Tube pitch, the idea would eventually evolve into what became the MuppeTelevision segments of the show.
Henson described the segment in the original pitch reel for The Jim Henson Hour (using clips from the Inner Tube pilot for visuals) calling Lead-Free TV "The Muppet Show from the future," full of special effects, rock music, fast-paced comedy and human guest stars.
The concept was further explained in Jim Henson: The Biography:
"

Jim was hoping to salvage the remains of Inner Tube and reshape them into something called Lead-Free TV. The concept was still relatively the same—a cast of new Muppets and a guest star interacting across television channels—but for Jim, it was still more about playing with the new technology.[1]

"
Henson believed the Lead-Free TV concept was an ideal format for satirizing cable television. However, like with the Inner Tube pilot, the writing remained a problem. Henson rejected a script called Pirate TV in 1988 for being too "nasty."[2]
To help tie the segments together, Henson insisted on a central theme for each episodes. Henson thought the segments should be somewhat educational; he proposed skits in which the characters explained the federal debt, the ozone, or the legislative process.[3]
As development of The Jim Henson Hour progressed, the series continued to evolve—becoming the MuppeTelevision segments. The series changed from a one-hour piece that would air every fourth week into a 20-minute segment that would anchor the first-half of each episode of The Jim Henson Hour. Additionally, NBC worried about the appeal of the show. While Lead-Free TV was originally envisioned with a cast of all-new Muppet characters, as the development continued many well-established Muppet characters—most notably Kermit the Frog as a central host—were added to the cast to make the segment more appealing and marketable to audiences.
Sources
↑ Jim Henson: The Biography by Brian Jay Jones (page 405)
↑ Jim Henson: The Biography by Brian Jay Jones (page 412)
↑ Jim Henson: The Biography by Brian Jay Jones (page 413)
See also
Community content is available under
CC-BY-SA
unless otherwise noted.