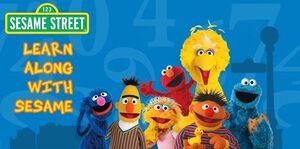 Learn Along with Sesame is a collection of online videos produced by Sesame Workshop, currently available via the iTunes Store. The free downloads of educational resource videos launched in February 2007 on the iTunes Store, as full video downloads. The collection currently has 12 episodes, including "A is for Asthma", in which Elmo and Rosita meet an asthmatic friend, and "Talk, Listen, Connect", in which Elmo's father Louie is in the military.
The collection also features Panwapa, a Sesame Workshop project starring an all-new group of Muppet characters.
A second collection, "Aprende con Sesame," was released in October 2007, featuring the Spanish versions of the resource videos (the collection does not include Lead Away!, which in its original version was not dubbed, but came with a Spanish comic book).
The collection was previously only available in the US iTunes Store. In 2013, the series was removed and replaced with a podcast, "Sesame Street in Communities," which posts the programs on a weekly basis.
Learn Along with Sesame Videos
Aprende con Sesame Videos
External links
Community content is available under
CC-BY-SA
unless otherwise noted.