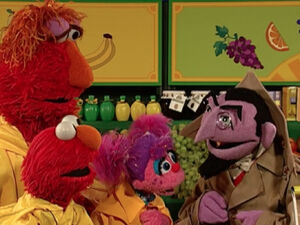 Happy, Healthy, Ready for School: Learning is Everywhere is a 22-minute resource video produced by Sesame Workshop in 2007. The video stars Elmo, Abby Cadabby, Count von Count, and others.
In October 2007, the entire video was made available as a free video download from Sesame Workshop via the iTunes Store as part of the Learn Along with Sesame series.
Notes
The two friends Elmo and Abby meet at the park are named Lara and Matt; after their respective performers, Lara MacLean and Matt Vogel.
Credits
Executive Producer: Christina Delfico
Producer: Joseph Pipher
Co-Producer: Kevin Clash
Written By Emily Perl Kingsley
Directed By Kevin Clash
Starring The Muppets of Sesame Street:
With Muppet Performers:
VP, Outreach and Educational Practices for Sesame Workshop: Jeanette Betancourt, Ed.D.
Associate Director: Ken Diego
Storyboard Artist: Louis Henry Mitchell
Music Composed and Arranged By Mark Radice
Lyrics By Mark Radice
Senior Muppet Consultant: Kevin Clash
Camera: Frank Biondo, Jerry Cancel, Pat Minietta
Location Cast: Anthony Bello, Anna Bramwell, Julia Bramwell, Phillip Bramwell, Kendall Gregory, Tiffany Miao, Jasmin Lowrence, Shondu Lowrence, Cole Mattox, Evan Simone Mattox, Benny Pipher, Erein Ruiz, Kiara Williams
Music Supervision: Loren Toolajian
Sound Effects: Dick Maitland