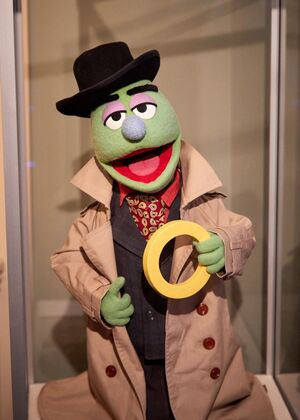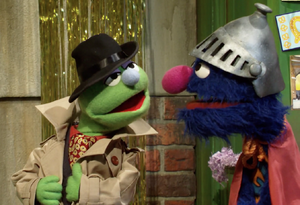 Lefty is a shady-looking salesman in a trench coat who appears on Sesame Street. He speaks in a whispery voice, and usually tries to sell a customer (often being Ernie) such esoteric items as a letter O, a snowman, or an invisible ice cream cone. His sales pitches are rarely successful.
Lefty had his own "sneaky" musical theme at the beginning of most of his sketches. The Salesman signals to Ernie with a furtive whisper: "Hey, bud! C'mere." Ernie shouts, "Who, me?" and the Salesman shushes him excitedly. Ernie whispers, "Who, me?" The Salesman answers with an elongated "Riiiiiight," and then begins his sales pitch: "How would ya like to buy..."
Lefty's most well-known appearance was a song, "Would You Like to Buy an O?", which was recorded for the 1971 record The Muppet Alphabet Album, and later used on the show. (First: Episode 0364)
Some of Lefty's sketches involved his attempts to carry out assignments from his boss (see table guide down below for the page with those skits). The boss was originally the only character who referred to him as "Lefty." Until the late 2000s, production materials, storybooks, and record albums have labeled the character simply as "The Salesman." On at least two occasions, Grover has referred to him by name, suggesting that Lefty isn't so mysterious to some.
A 2008 book, Storybook ABCs, is the first use of Lefty's name in print. Grover is dressed as Jack (of "Beanstalk" fame), and the Salesman approaches from behind a tree with an offer: "Care for some candy beans for that cow?" Jack replies, "Thanks, Lefty! And do you also have a candlestick?" Lefty apparently has one in stock -- a few pages later, Jack (of "Jack Be Nimble" fame) jumps over the candlestick. At the end of the book, Lefty returns to feed four and twenty blackbirds with birdseed that fills his carry-all bag.
Lefty was mostly active on the show for the first four seasons (with one final skit in season 6), but his puppet would still occasionally be used in promo pictures, including a cast image from season 10. After his retirement, his existing skits were still kept in rotation until season 29.
After many years of absence, Lefty resurfaced in 2019 for new productions related to the show's 50th anniversary, now performed by Ryan Dillon.[1][2] He appeared at San Diego Comic-Con in July during the "Sesame Street Puppets Live!" show, and had a featured role in Sesame Street's 50th Anniversary Celebration, trying to sell Rosita and Super Grover a letter S in their pursuit for the missing Sesame Street sign. He also appears in The Not-Too-Late Show with Elmo as an audience member.
Influences
Several of Lefty's vocal mannerisms (outside of his elongated "Riiiight") derive from two different 1940s old-time radio characters, both of whom were a bit shady and had labels rather than names. One was "The Tout" from The Jack Benny Program, introduced in 1945 and played by Sheldon Leonard. Greeting Jack Benny in a breathy, gangster-style undertone, the tout would say "Hey, bud... c'mere a minute," to which Jack would usually respond "Who, me?" He would then attempt to "tout" Jack into changing trains, elevators, tables, whatever, but always in horse racing parlance.
The other influence was an even earlier character known only as "The Salesman," played by Eddie Marr on Jack Carson's The Camel Comedy Caravan in 1943. (Marr, who specialized in huckster and barker roles, used elements of the character on other series, including Benny's.) The Salesman would show up and try to sell anything to Jack Carson (even a gun to commit suicide) and his catchphrase was "Tell ya what I'm gonna do," which he turned into a novelty song that same year. The Lefty/Ernie story "Ernie Buys a 12" in the 1975 Big Bird's Busy Book includes examples of these radio elements.
Episodic appearances
Sketches
see also: Sesame Street Gangsters
Picture
Summary / First Appearance
Description

8

---

Episode 0079
Lefty wants to sell a number 8 to Ernie, who ran out of money buying some number 9s. Ernie then offers to sell Lefty his number 9s.

Empty box

---

Episode 0081
Lefty wants to sell Ernie an empty box, explaining that he can fill the box with things, such as a pet mouse (if Ernie had one) and jellybeans (if they rained from the sky). Ernie wants an empty box, but doesn't have any money. However, Bert brings a box of cookies. Ernie dumps the cookies so he can catch jellybeans from the sky.

Air

---

Episode 0118
Lefty sells Ernie some air, but when Ernie waves to Bert, wanting to show it to him, he drops it. According to Bert (who didn't know what Ernie had), "It couldn't have vanished into thin air." But Ernie sobs, "Yes, it could, Bert! It could!"

U

---

Episode 0126
Lefty tries to sell a letter U, which he claims to have had in his family for years. The U is actually a string tied to two poles. However, Ernie already has a U, but when he says that yesterday he could have used a V, Lefty stretches out the U's bottom to turn it into a V.
Caroll Spinney (instead of Frank Oz) performed Lefty in this skit.

P and R

---

Episode 0129
Lefty holds a letter R, and Ernie holds a letter P.
Spinney plays Lefty in this sketch.

Stop Sign

---

Episode 0134
Lefty tries to sell Ernie a stop sign.

ME Sign

---

Episode 0205
Lefty attempts to sell a "ME" sign to Ernie for a nickel. Ernie buys the sign, which two Anything Muppets then try to buy from him for a much higher price.

Handy-Dandy Remembering Pad

---

Episode 0219
Lefty sells Ernie a handy-dandy remembering pad (which is clearly a pocket book) that reminds him to take care of his daily routines (i.e. wake up in the morning, eat lunch at noon, etc.) Unfortunately, Ernie doesn't have the money to pay for the pad, so he gives Lefty his address so he can come by and get paid. But Ernie takes the pad with him, making Lefty unable to remember Ernie's address, or which way he went, without it.

Picture of Four Elephants

---

Episode 0292
Lefty wants to sell Ernie a picture of a tree, which he says is actually a picture of four elephants. Ernie doesn't see the four elephants, so Lefty offers to sell him the picture for a nickel if he can show Ernie the four elephants. Lefty points out the elephants, which are actually spaces in the tree's branches. Ernie buys the picture and tries to pull the same trick on Bert, but Bert notices the elephants before Ernie has a chance to even mention the picture.

"Would You Like to Buy an O?"

---

Episode 0364
In song, Lefty offers Ernie the chance to buy a letter O. He promises, "When ya buy this O, ya get two sounds for the price of one. Ya get one sound that ya can use for words like olive, ostrich and ox -- and for no extra money, ya get another sound for words like ocean, over, old and opening."

Snowman

---

Episode 0368
Lefty wants to sell Ernie a snowman, but it starts to melt, growing smaller and smaller.

Scale

---

Episode 0449
Lefty wants to sell Ernie a scale. He uses two pounds of bananas and two pounds of apples to demonstrate how the scale works. Ernie is impressed, but he already has a scale at home. However, he wants to buy some of the apples and bananas.

Paper Bag

---

Episode 0510
Lefty wants to sell Herry Monster a paper bag.

Invisible Ice Cream Cone

---

Episode 0687
Lefty sells Ernie an invisible ice cream cone. Ernie pays for it with an invisible nickel.
Notes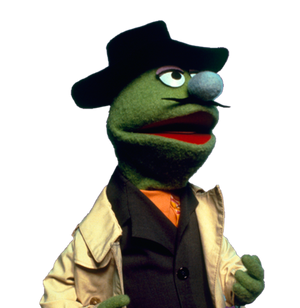 Book appearances
Merchandise
See also
Sources