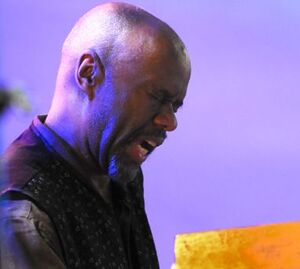 Leon Pendarvis is a keyboardist and arranger who arranged and conducted music for the album Sesame Street Fever and its sequel Sesame Disco! On the latter, he played keyboards.
Pendarvis has been a prolific session musician, mostly for soul singers, since the 1960s. He recorded with Quincy Jones, Roberta Flack, Chaka Khan, Aretha Franklin, Diana Ross, Dionne Warwick, Lena Horne, Lou Rawls, Luther Vandross, and Gladys Knight, as well as Paul Simon, Celine Dion, and Carly Simon. He arranged and played keyboards on the title song to the film Fame.
His most public musical contribution, however, has been as a member of the Saturday Night Live house band since 1981, often serving as conductor and, in recent seasons, as musical director. He has also played with The Blues Brothers band.