PERFORMER
Brian Tochi voice
 
various body & face
DEBUT
1990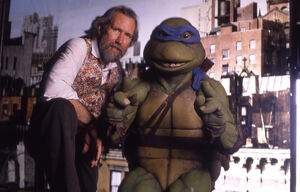 Leonardo is the leader of the Teenage Mutant Ninja Turtles, as seen in the 1990 Creature Shop film Teenage Mutant Ninja Turtles and Teenage Mutant Ninja Turtles II: The Secret of the Ooze. Named after Renaissance painter Leonardo da Vinci, he is the most mature, relatively speaking, of the turtles. In the first film, he becomes particularly concerned for the safety of their mentor Splinter, and through a form of Japanese mysticism, reconnects with him. In the sequel, he's plagued with self-doubts upon learning that the turtles were not created for a purpose, but born from chance exposure to toxic watse (or "ooze") left by Professor Perry's company.
Performers
While Leonardo's voice remained the same in both films, his puppeteers changed. In Teenage Mutant Ninja Turtles, David Forman operated his body while Martin P. Robinson performed his face. In Secret of the Ooze, Mark Caso wore the body suit while Rob Tygner puppeteered the face.
Community content is available under
CC-BY-SA
unless otherwise noted.