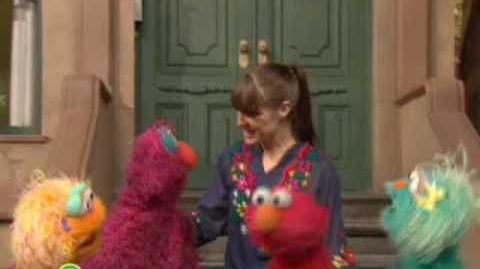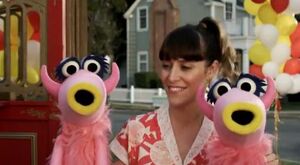 Leslie Feist (b. 1976) is a Juno Award-winning and Grammy-nominated Canadian singer-songwriter. She performs as a solo artist under the name Feist and as a member of the indie rock supergroup Broken Social Scene. She is best known for the song "1234," and gained mainstream popularity after appearing in an iPod advertisement.
She appeared in a segment for Sesame Street season 39, parodying the song "1234". (First: Episode 4161)
Her 2008 music video for the song "Honey Honey" included puppets from Calgary's Old Trout Puppet Theatre, where she apprenticed as a teen.
"I've always been really obsessed with the naiveté of puppeteering, the non-technological impact of it. It's a hand pulling a string at the exact right moment, or it's personifying a piece of wood. There are no computers, no buttons. It's just ingenuity and timing and the humanness of the moment. The joints of wood mixed with the joints of blood and bone."
She appeared with Kermit and Pepe on the red carpet of the 2008 Grammy Awards on Muppets.com. A reverse perspective of this encounter appears in the documentary Look at What the Light Did Now.
In 2011, Feist made a cameo in The Muppets during the opening "Life's a Happy Song" number.
External links
Community content is available under
CC-BY-SA
unless otherwise noted.