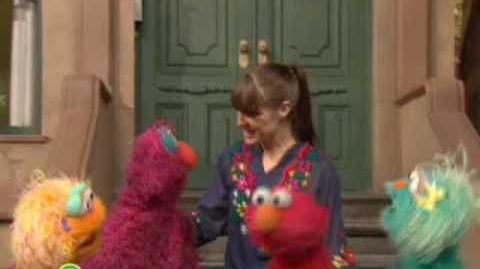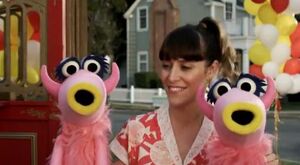 Leslie Feist (b. 1976) is a Juno Award-winning and Grammy-nominated Canadian singer-songwriter. She performs as a solo artist under the name Feist and as a member of the indie rock supergroup Broken Social Scene. She is best known for the song "1234," and gained mainstream popularity after appearing in an iPod advertisement.
She appeared in a segment for Sesame Street season 39, parodying the song "1234." (First: Episode 4161)
Her 2008 music video for the song "Honey Honey" included puppets from Calgary's Old Trout Puppet Theatre, where she apprenticed as a teen.
She appeared with Kermit and Pepe on the red carpet of the 2008 Grammy Awards on Muppets.com. A reverse perspective of this encounter appears in the documentary Look at What the Light Did Now.
In 2011, Feist made a cameo in The Muppets during the opening "Life's a Happy Song" number.
External links