Let's Cook! is a 2015 Sesame Street recipe book which includes 50 recipes for healthy meals and snacks. The book is the follow-up to McQuillan's C is for Cooking (2007), and B Is for Baking (2011).
Description:[1]
"

Sesame Street has been entertaining and educating young children and their parents for 45 years with its irresistible, brightly colored "monsters." In recent years, Elmo, Cookie Monster, and the gang have appeared with chefs and on TV to teach kids about healthy eating. Studies have even shown that Elmo helps kids like broccoli. In April 2014, Michelle Obama announced a national "Eat Brighter" campaign that will feature Sesame Street characters on food labels.

Sesame Street Let's Cook! furthers this new effort in cookbook form. It features a visual "ABCs of Healthy Foods," plus 50 simple, healthful recipes for breakfasts, main meals, and snacks. There's a color photo for every recipe, Kids! steps, nutrition tips, and clever sidebars that teach young children ages 2 to 5 skills such as counting, matching, learning the alphabet, and more. This is a fun, practical book to help parents and their kids make simple meals, enjoy time together in the kitchen, and learn about healthy eating."
Promotion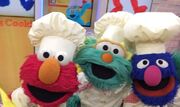 Sources
See also
Community content is available under
CC-BY-SA
unless otherwise noted.