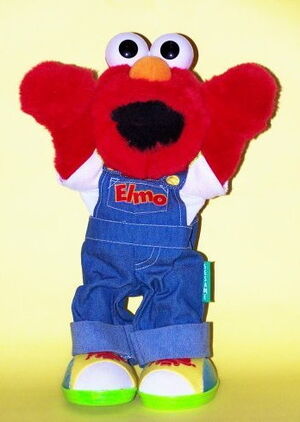 Let's Pretend Elmo is a doll produced by Fisher-Price in 1999 and released in 2000. This battery operated Elmo moves, twists, talks, falls, and keeps children ages 3 and up busy. Elmo's tilt sensors and positions of his limbs can determine what he can pretend to be.
What Elmo can pretend to be
If Elmo is not in any of these positions, he will not pretend to be anything.
Elmo standing upright with one of his arms turned up: He will pretend to be either a policeman or a train while moving his waist from side to side.
Elmo standing with both arms up: He will pretend to be either a monkey or monster.
Elmo on "all fours" (his hands and feet on the ground): Elmo will either pretend to be a baby or a puppy and move. He might even "crawl" a few inches as well! Elmo's head can be turned up so he can look up while in this position.
Elmo being held around the waist front down with his arms extended out in a "flying" position: Elmo will pretend to be either an airplane and make plane sounds, or pretend to be "Super Elmo".
Elmo sitting down with arms and legs extended: Elmo will pretend to be either a race car driver or a cowboy.
In all cases, his right hand can be squeezed to repeat the same action again, otherwise he will go into the next routine, and after that he will NOT go back into the first. His right hand also acts as an "on" button. He does not have an on/off switch. After a few prompts from Elmo to keep playing with him, he will say "Let's pretend later" and shut himself off to save battery life.
Community content is available under
CC-BY-SA
unless otherwise noted.