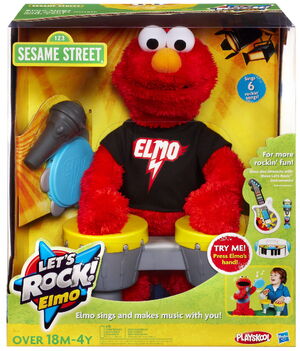 Let's Rock! Elmo is an interactive Elmo toy developed by Hasbro and released in 2011.
"Let's Rock! Elmo" sings and plays the tambourine and a drum set. Elmo recognizes which musical instruments he's given and plays accordingly. The "Let's Rock!" toy line was expanded in 2011 and 2012 with more instruments and plush toys.
Jerry Perez, general manager of Hasbro's Playskool division, said of the toy:
"

With 'Let's Rock! Elmo,' it's great to be able to bring to life this beloved character like never before... Kids can actually form their own Elmo rock band. Elmo knows which instrument you are playing and he will sing along or play along with you.[1]

"
Randy Jackson was featured in the Pawtucket, Rhode Island media launch of the toy.
Toy line
Features
Elmo can recognize a different Let's Rock instrument when that instrument is in "Band mode" using a certain frequency.
Elmo can play one instrument at a time, or his microphone and tambourine or his mic and his drums at the same time. However, he cannot play all three at once. If given all three, he will say that he cannot play all three instruments at once, and will just play his tambourine and microphone.
Elmo will ask for a specific instrument when turned on. If he asks five times for the instrument and it is not given to him, he will assume that the instrument is lost and will not continue to ask for it.
To conserve battery power, Elmo will go into "sleep mode" if not played with for about a minute. After 4-5 seconds, he will say a random phrase. If it is not responded, he will shut down within 45-50 seconds and say "See you later, alligator."
Sources
↑ "Top-secret Elmo and friends revealed", CNN Money. February 9, 2011.
Community content is available under
CC-BY-SA
unless otherwise noted.