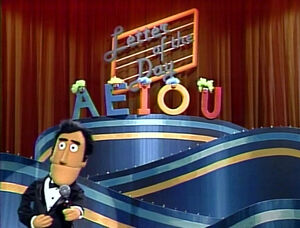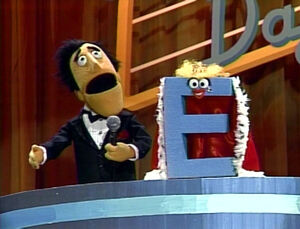 Guy Smiley hosted the Letter of the Day Pageant on Sesame Street in the mid-1980s. (First: Episode 2212) The skit was a spoof of the Miss America Pageant, complete with tearful candidates and song by Guy Smiley (ala Bert Parks). As part of the spoof, before announcing the runner-up to the winner, Guy noted "Should our winner be unable to serve, you will replace it in every word in the dictionary."
The five finalists were the five vowels, and the letter E won. The category winners were the letter S (for swimsuit competition), the letter C (for congeniality) and the tap-dancing letter T (for talent).
References
The event took place at Shardlow Hall in Atlantic City, Oregon, the city locale spoofing Atlantic City, New Jersey, the long-time location for the Miss America Pageants.
The song sung by Guy Smiley (written by Tony Geiss) parodies "There She Is, Miss America."
Guy Smiley's tuxedo was provided by "After Three and a Half," a takeoff on tuxedo manufacturer After Six. Travel arrangements were provided by "Trans World Bicycles," a takeoff on Trans World Airlines.
Notes
Sources
↑ 1.0 1.1 Documents provided by trusted source
Community content is available under
CC-BY-SA
unless otherwise noted.