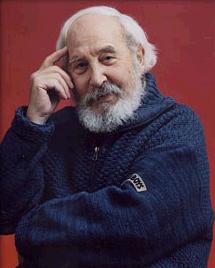 Lex Goudsmit played Lex on Sesamstraat, the Dutch co-production of Sesame Street, from 1983 until his death in 1999.
With his white beard and his jolly smile, Goudsmit was not only a grandfather to the Muppets, but to every television-watching child in the Netherlands as well.
Born in 1913, Lex Goudsmit was most known for his role as Tevje in Anatevka (Fiddler On The Roof), which he played approximately 1100 times in the Netherlands and London. He performed in various other TV shows for children, and he wrote children's stories.
Goudsmit was awarded the "Blijvend Applaus Prijs" (Constant Applause Award) in 1999. He died that same year. As a tribute, the NPS broadcast a special episode of Sesamstraat, with the best Lex scenes.
As requested by Goudsmit, his newer scenes that had not been broadcast yet were still shown on Sesamstraat after his death.
Community content is available under
CC-BY-SA
unless otherwise noted.