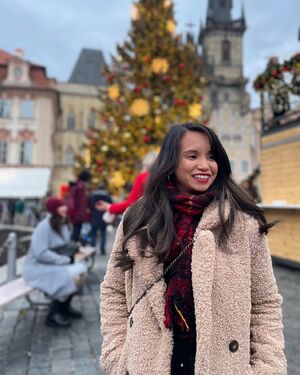 Lexine Bondoc (b. October 14, 1988) appeared on Sesame Street as Lexine, one of the kids for several seasons, from approximately 1993 through 1998. For seasons 26 through 29, she received credit as part of the "child cast."
Lexine was a frequent background character in street scenes, notably during the 1998 storyline in which Slimey goes to the moon, and appeared in several skits with Cookie Monster. She also appeared in several home video releases, including Get Up and Dance, Do the Alphabet, Imagine That, and Elmocize.
Bondoc made her professional debut at the age of three years and nine months, when she joined the cast of Broadway's Miss Saigon as Tam. She appeared on Sesame Street at the age of four, and played Princess Yaowlak in the Broadway revival of The King and I for a year and a half, until her role on Sesame Street was expanded.
In 1997, Bondoc supplied the voice of the young White Fang in Michael Sporn's animated version of the Jack London story, and she appeared in the National Asian American Theatre Company's 1999 revival of Bertolt Brecht's He Who Says Yes/He Who Says No, starring as "the Boy" alongside Alan Muraoka as the teacher.
Notable appearances