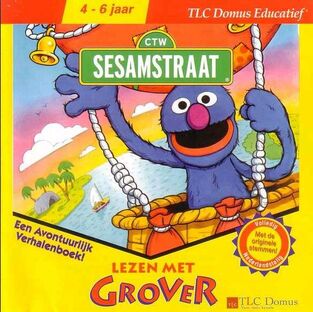 Lezen Met Grover: Op Reis Met Grover (Reading With Grover: A Journey With Grover) is a Sesamstraat CD-ROM game for home computers developed by Mindscape and Sesame Workshop. It is a localization of the game Grover's Travels. Grover takes a journey to several exotic countries. During the trip, he meets several people with different emotions. The game teaches such emotions as sad, happy, angry, surprised, and proud.
The game also includes activities built around rhyming, numbers, and following clues.
Contents
"Introduction": Cookie Monster tells the story of Grover's Journey. From here you can go to every country.
"Rhyming": Grover reads a story but can you find the object that rhymes.
"Numbers": You can free Grover from the little people by putting the numbers on the right place.
"Counting": Click the right amount of apples and you can help Elmo to get his own cape.
"Emotions": Grover tells the story to Elmo. You must show the emotion of the story to his mother by clicking the correct gingerbread man.
See also