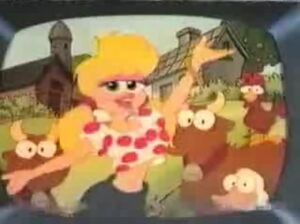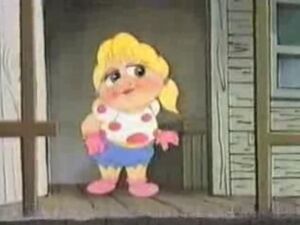 Li'l Abner was an American comic strip created by Al Capp that ran for 43 years, from 1934-1977. The strip became enormously popular, influencing the pop culture lexicon, and inspiring theatrical cartoons, a radio show, Broadway musical, film adaptations and TV pilots, and the Arkansas theme park Dogpatch USA. The comic's strip-within-a-strip "Fearless Fosdick" gained a following in its own right, leading to an early TV puppet show.
Like his contemporary Walt Kelly, Capp's strip was satirical and often featured socially relevant storylines, many times taking the characters out of their native Dogpatch, Kentucky. New character introductions resulted in their becoming instant celebrities, with the introduction of the Shmoo, and its threat to Capitalism, sparking a craze among the USA.
The legacy of the strip continues today with the folk event, Sadie Hawkins Day, an annual race created within the strip in 1937, in which the Dogpatch womenfolk would pursue the bachelors and marry whoever they could catch. In real life, it's a simple gender role-reversal event (usually in the form of a dance), with women and girls taking an initiative to invite the man or boy of their choice on a date.
References
In the Muppet Babies episode "Remote Control Cornballs," Baby Piggy is a fan of a series called The Sadie Hawkins Show, referencing the Abner race, but starring a Minnie Pearl-sound alike who resembles Daisy Mae. In her own fantasy, Piggy becomes the Daisy Mae counterpart "Peggy Mae," looking for "Li'l Kermit."
Connections
External links