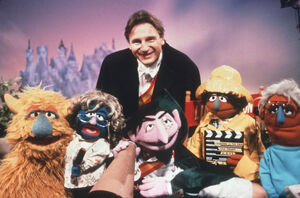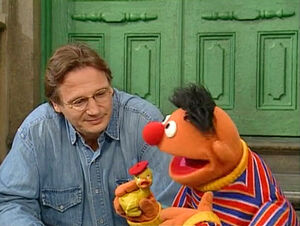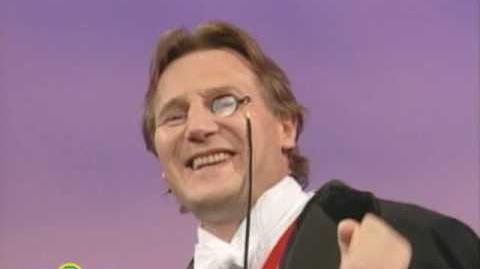 Liam Neeson (b. 1952) is an Academy Award-nominated actor from Northern Ireland, most famous for his role as Oskar Schindler in Schindler's List.
He has appeared on Sesame Street in several segments. In one sketch, Neeson appears with the Count where he makes a film of Neeson counting to 20, calling it Transylvania 6-5000. Neeson, dressed in clothes similar to the Count complete with monocle, counts so well that it thunders and rains. The Count then decides to make another film of Neeson counting, calling it Countin' in the Rain.
Neeson has also said the alphabet with Ernie and Rubber Duckie (First: Episode 3797), and joined in the celebrity version of "Sing." (First: Episode 3851) Neeson spoke well of his appearances, stating:
"I feel I've now worked with the great cinematic masters: Spielberg, Lucas, Rubber Duckie, and The Count. My artistic life is complete![1]"
Neeson spoke to Empire magazine about his favorite Muppet: "When I was in theatre in Belfast in the '70s, The Muppet Show was a firm favourite. I liked Kermit and Miss Piggy. Even as ostentatious and egotistical as she was, she loved his green simplicity. She was madly in love with him and that was beautiful."[2]
Voice credits include Aslan in The Chronicles of Narnia: The Lion, the Witch and the Wardrobe and The Simpsons, and Neeson has appeared in Batman Begins, Star Wars: Episode I - The Phantom Menace, Miami Vice, and Woody Allen's Husbands and Wives.
External links
Sources
Community content is available under
CC-BY-SA
unless otherwise noted.