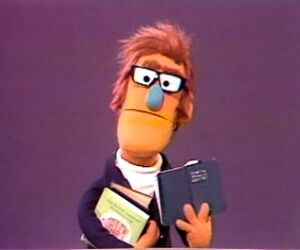 There have been several unnamed characters have appeared on Sesame Street in the role of a Librarian. They ususally potrayed by an Anything Muppet.
In a Cookie Monster sketch, a Large Lavender Live Hand Anything Muppet librarian (performed by Richard Hunt) became extremely frustrated due to Cookie's inability to comprehend that the library doesn't have cookies.
A different librarian character was featured in a spot with David singing "The People in Your Neighborhood". This librarian was an Orange Gold Anything Muppet performed by Jim Henson.
Another different librarian character was featured in a sketch with Grover in a library sketch, where the told him to not to talk louder. He was a Green Anything Muppet played by Jerry Nelson.
Named Librarians on Sesame Street
See also
Community content is available under
CC-BY-SA
unless otherwise noted.