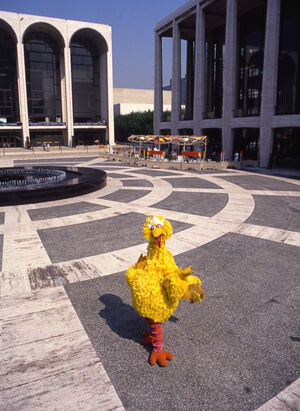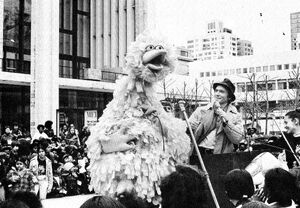 The Lincoln Center for the Performing Arts is a plaza located in New York City, established in 1962. The center is home to such institutions as the Juilliard School, the Metropolitan Opera, New York City Ballet and the New York Philharmonic.
Jim Henson proposed a show, The Muppets at Lincoln Center, to be performed there. The center approved the idea, but it ultimately never came into fruition.
On April 29, 1975, the plaza was home to the city's Feeling Good Health Festival. Big Bird and other Sesame Street regulars were in attendance as a part of the live entertainment.[1]
The cast of Sesame Street visited the center in 1978 for a number of season 10 segments, including Bob singing with a musical trio near the Reclining Figure sculpture (First: Episode 1266). In Episode 1311 (a clip of which was seen in A Walking Tour of Sesame Street), the plaza's famous fountain blocks the adults' view of Mr. Snuffleupagus. In another scene, Olivia and Maria visit the bandshell in the area, where Olivia imagines herself as a famous singer and performs "Filling the Air with Love."
In 2009, Zoe appeared in a TV spot for the Lincoln Center's 50th Anniversary. She talked about how she likes to dance, and shared memories of two dancers from the New York City Ballet came to Sesame Street to show her and Elmo how to dance (with clips from Episode 3621).
For Season 43 of Sesame Street, three editions of Murray Monster's "People in Your Neighborhood" segment were taped at the center, highlighting such performers as the New York City Ballet and Music Director and Conductor Alan Gilbert. Select, subsequent tune-in segments and "What's the Word on the Street?" intros were filmed there as well.
The New York Public Library for the Performing Arts, located in the plaza, housed two Muppet exhibits over the years. In 1979, the library was home to the "Art of the Muppets" exhibit. Years later, a Sesame Street exhibit, "Somebody Come and Play," ran from September 2014 to January 2015.
A Swingin' Sesame Street Celebration was held at the facility, to celebrate the show's anniversary.
References
The "Frog of the Year" banquet in The Best of Kermit on Sesame Street takes place in Kingfisher Hall (a play on Avery Fisher Hall, currently named David Geffen Hall) in the Lincoln Center for the Performing Larks. An exterior shot of the Lincoln Center area is used as well.
In Episode 4075 of Sesame Street, Alan plays the part of a royal trumpeter in Cookie Monster's story. When he hits another sour note, King Cookie comments that he hadn't attended Julliard.
Sources
↑ The New York Times, April 29, 1975.