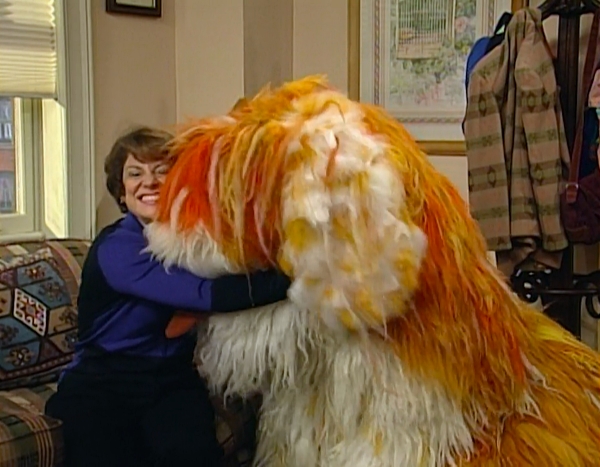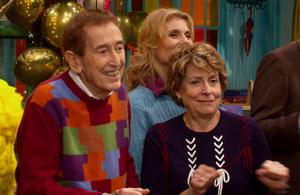 Linda is a librarian who worked at the Library on Sesame Street.
She was introduced on the show in Episode 0243 from season 2, and featured as a regular character through season 33. She was initially introduced as an actor for the National Theatre of the Deaf (mirroring her real life role), moved to Sesame Street in Episode 0326, and became a librarian in Episode 1868 (mirroring her real life degree in library science.)
Linda is deaf, as is her performer. As a deaf character, Linda allowed the producers of Sesame Street to teach viewers about sign language and address issues faced by deaf people. Her segments and appearances often focused on American Sign Language (ASL), such as "Signs for the Hearing". She also featured in several sketches with other human cast members, and appeared in several Maria as Chaplin skits.
She and Bob were very close, and a romantic relationship between the two was implied at various times. For a time, Linda was the owner of Barkley the dog, who could understand some ASL. Her thoughts were sometimes heard in voice-over, supplied by Ivy Austin on two occasions; Episode 2485 (during the "Wedding Pictures" song) and Episode 3059.
In Episode 0914, Linda's father came to visit and celebrate her birthday. In Episode 1072, she gets a TTY (teletypewriter) so that she can call her dad on the phone. Upon hearing that she acquired the new machine, she gets a message to please call her Aunt Ruth, her Uncle Taras, her brother Glenn, and her cousin Amy.
Linda also participated in some songs using ASL, such as "Sing" with Olivia in Episode 1330. In the 1978 TV special Christmas Eve on Sesame Street, she led a group of kids who signed the entirety of "Keep Christmas with You".
Linda no longer appears on the show, but some of her archive segments were used after her departure (as in Episode 4106, which introduces Bob's deaf niece Samara), and she continued to be mentioned in Sesame Street Magazine. She made a return appearance in Sesame Street's 50th Anniversary Celebration.
Appearances
Book appearances
See also