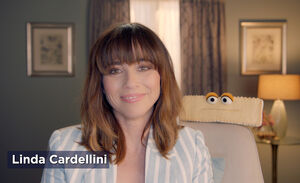 Linda Cardellini (b. 1975) is an actor known for appearing as a series regular on Freaks and Geeks and ER, and for playing Velma Dinkley in two Scooby-Doo movies.
She appears in the Disney+ series Muppets Now in Miss Piggy's "Lifesty(le)" segments.
Her other credits include Legally Blonde (with Reese Witherspoon), Jiminy Glick in Lalawood (with Martin Short), Brokeback Mountain (with Jake Gyllenhaal), All-Star Superman, Bone Chillers, Gravity Falls, and two Avengers films for Marvel Studios.