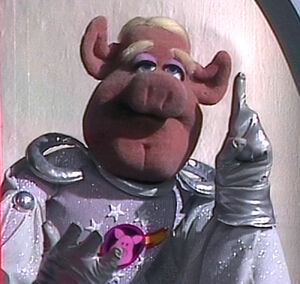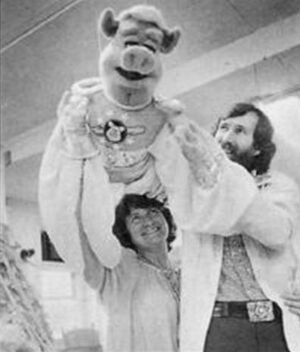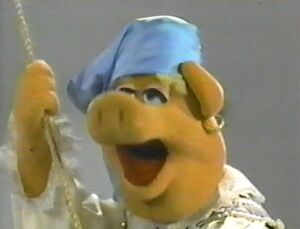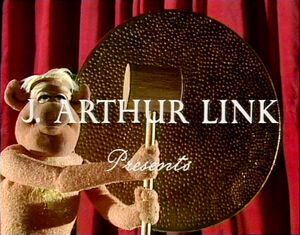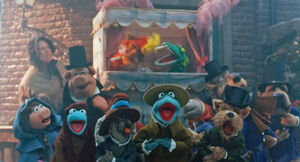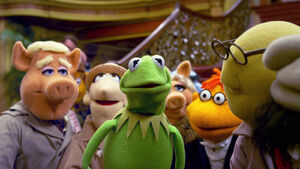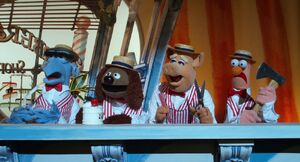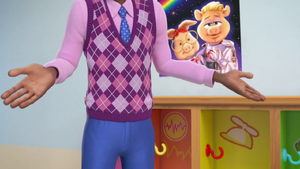 Link Hogthrob is the blonde, cleft-chinned pig with a high opinion of himself on The Muppet Show. He debuted in the second season as the not-so-fearless captain of the Swinetrek, where his unbridled machismo was often a source of conflict with his co-star, First Mate Piggy.
Unlike Dr. Julius Strangepork, whose role on The Muppet Show would be primarily relegated to the Pigs in Space sketches, Link would feature regularly both in the show's on stage acts and backstage mayhem. When numbers were consisted of assorted pigs, Link was usually with them.
His singing talents were first featured in his second appearance, where he sang "I Talk to the Trees." Other musical numbers included solos ("Sonny Boy"), duets with Miss Piggy ("La Ci Darem La Mano"), and group numbers ("Sea Chantey," "The Rhyming Song").
Link's bravado was often challenged by various scenarios. For example, in episode 524 it is revealed that he wears a toupee and a girdle to bolster his vanity. Other times, he would drop his composure and call out to his mommy while sucking his thumb, such as in episode 303.
Starting in the show's third season, Link was also featured as the police chief in the recurring "Bear on Patrol" sketches, where his dimwittedness was often the source of physical trauma to Patrol Bear.
Link was later one of the few classic Muppet Show characters to be used in the Muppet Central control room on The Jim Henson Hour. His most notable appearance was in the episode "Fitness" where he believes that he has a disease called Canadian Snout Fever after reading a book of silly diseases and by coincidentally encountering a number of things related to the book's symptoms. Other notable appearances include "First Show" (where he tested the Response-O-Matic, a device used to change television programs based on what the viewers want), and "Food" (in which he appeared in a sketch as a food critic at a restaurant).
For a time after Jim Henson's death, Link was largely retired, appearing in occasional silent cameos such as in The Muppet Christmas Carol and Muppet Treasure Island. His few speaking roles included the video games Muppet RaceMania and Muppets Party Cruise, as voiced by Steve Whitmire. Whitmire continued to perform Link in his return to puppet form in The Muppets (where he sang "Smells Like Teen Spirit" as a member of the Muppets Barbershop Quartet), and Muppets Most Wanted (singing a verse in "Something So Right," and conversing with Usher at the wedding). Link also appeared during the Muppets' appearance on QVC. Link also appeared in The Muppets Take the Bowl concert, taking part in the live Pigs in Space sketch "The Suits Awaken," where he was performed by Peter Linz. Linz also performed Link at the PuppetPalooza festival[1] and in The Muppets Take the O2 in the Pigs in Space sketch "The Stolen Mirth," both in 2018.
An action figure of Link was produced in 2003 as part of Series 4 of Palisades Toys' line of Muppet action figures.
Behind the scenes
According to Brian Henson in one of his generic introductions for The Muppet Show, Link's voice was one that Jim Henson used in real life:
Dave Goelz, who spent time in the Muppet Workshop in addition to performing, described Link's conception in a 2018 interview with Splitsider:
Though Link was primarily a Live-hand Muppet, he was occasionally seen with rod-hands on The Muppet Show.
Notes
Filmography
Book appearances
Sources