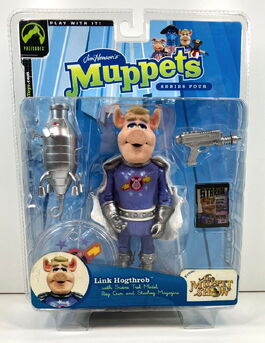 Released: Summer 2003
Series: 4
Articulation: Neck, ball joint shoulders, elbows, gloves, waist, hips, knees, ankles
Accessories: Swinetrek miniature model on base, "Starhog Magazine", ray gun
From: The Muppet Show
Pigs in Space captain Link Hogthrob was featured in the fourth series of Palisades Toys' line of Jim Henson's Muppets action figures. He was the first Link Hogthrob figural toy.
Link wears a purple suit and a small silver cape. The Swinetrek model could be separated from its base, which has the Pigs in Space logo on it. The Starhog Magazine cover features a photo of the Link action figure. The ray gun was taken from the Pigs in Space scenes.
A Julius Strangepork Action Figure and a Swinetrek Playset featuring a figure of First Mate Piggy were released as well.