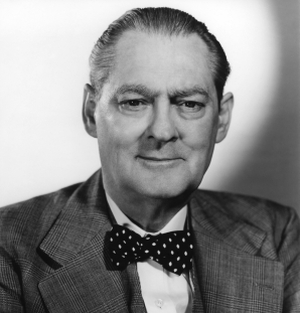 Lionel Barrymore (1878-1954) was an acclaimed actor in stage, film, and radio, and a member of the famous Barrymore acting family (including brother John, sister Ethel, and most recently great-niece Drew Barrymore). Barrymore's career spanned 61 years, from Ibsen plays on stage to annual radio appearances as Ebenezer Scrooge in A Christmas Carol (1934-1953).
In the movies, Barrymore's work ran the gamut, from silents to sound, from Rasputin (Rasputin and the Empress, 1932) to Dickens' Dan Peggotty (David Copperfield, 1935), from horror (Professor Zelin in Mark of the Vampire, 1936) to medical dramas (the cantankerous Dr. Gillespie in the long-running Dr. Kildare series). In 1938, Barrymore, who had suffered from arthritis and hip problems, completely lost the use of his legs. However, he remained active, as his parts were rewritten to accommodate the injury, beginning with his portrayal of Grandpa Vanderhoff in Frank Capra's You Can't Take It With You (1938), using crutches. Barrymore would reunite with Capra in 1946 for perhaps his best known screen role, the grasping, embittered wheel-chair bound banker Mr. Potter, the antagonist of It's a Wonderful Life (along with Scrooge and the Grinch, one of the most iconic Christmas villains).
References
In The Muppet Show episode 120, Statler boasts to Kermit of having gone out with many greats of the theater, including Hayes (Helen), Langtry (Lily), and Barrymore. Kermit assumes he means Ethel Barrymore, but Statler informs him that it was Lionel, since Ethel was busy. They didn't dance much, a joke based on the fact that they were both male but also a possible allusion to Lionel Barrymore's wheelchair-bound later years.
External links
Community content is available under
CC-BY-SA
unless otherwise noted.