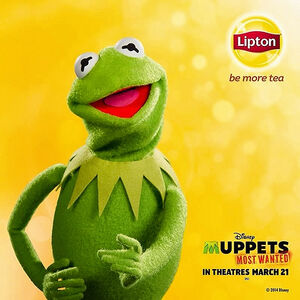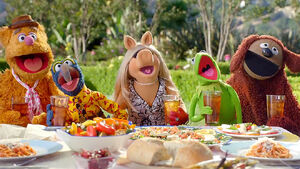 Lipton is a brand of tea founded and named after Thomas Lipton in the late 1800's. In 2014, Lipton launched their "Be More Tea" campaign with commercials starring the Muppets as a promotional tie-in with Muppets Most Wanted.
Commercials
The first commercial centers on Kermit enduring New York City, populated by multiple Animals. After drinking a cup of Lipton tea, Kermit settles into a new outlook; helping an elderly Animal cross the street, entertaining a fussy Baby Animal in his stroller, and even calming Miss Piggy by offering her a bottle of Lipton tea. The ad is underscored by the Harry Nilsson track "Everybody's Talkin'." Four edits of the ad were produced; a 90 second version (debuting online on February 26), a 60 second version (airing during the 86th Academy Awards), and two different 30 second versions (appearing as in-stream ads on YouTube videos).
A 30 second commercial for Lipton Fresh Brew Iced Tea finds Miss Piggy hosting a picnic for Fozzie, Gonzo, Rowlf and Animal, who disapproves of drinking water. Kermit comes in with a pitcher of tea, singing a variation of his "Be More Tea" serenade. The ad was officially released to Lipton's YouTube channel on July 11, 2014, ending with a voice-over promoting the Muppets Most Wanted video release. A 15 second version was also made.
Behind the scenes
The production for the initial commercial was handled by Framestore over the course of three weeks. Seven Animals were used, as well as some CGI versions for out-of-focus crowd shots.[1] Puppeteers on the shoot included Eric Jacobson, Steve Whitmire, Peter Linz, Mike Quinn, Alice Dinnean, Michelan Sisti, Bruce Lanoil, and Julianne Buescher.

Gallery
See also
A proposed film concept, Muppet Time Travel, involved a world of humans descended from Animal.
Sources
External links
Community content is available under
CC-BY-SA
unless otherwise noted.