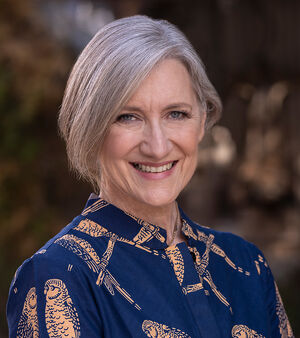 Lisa Marie Henson (b. May 9, 1960)[1] is Chief Executive Officer of The Jim Henson Company and the eldest child of Jim Henson and Jane Henson.
Official Bio
from The Jim Henson Company
Lisa Henson is Chief Executive Officer of The Jim Henson Company where she oversees all television and feature film production for the Company from early development through post-production.
Prior to her current position, Ms. Henson was President of Columbia Pictures, in charge of all creative business affairs, administrative and production-related matters for the company. Under Ms. Henson's leadership, Columbia Pictures produced a string of critical and commercial successes including Bad Boys, Men in Black and Fly Away Home. She was also responsible for the critically acclaimed, Academy Award-winning Sense and Sensibility. Prior to joining Columbia Pictures, Ms. Henson served 10 years as a Production Executive at Warner Bros., working on such blockbusters as Lethal Weapon, Batman and Batman Returns.
Ms. Henson graduated in 1983 with a degree in folklore and mythology from Harvard University, where she was the first female President of The Harvard Lampoon. In the past, she has served on the Board of Directors for Harvard University, the Tibet House and The Jim Henson Foundation for Puppetry.
Trivia
In a documentary about The Wizard of Oz fans, Henson credits the movie as an early favorite, and describes watching it with her family. The short, titled "Because of the Wonderful Things it Does: The Legacy of Oz", was included on the 2005 two-disc set released for the 1939 MGM film.
Sources
External links