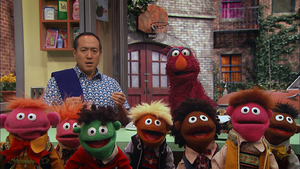 Little Anything Muppets is the collective term used in CTW style guides for small Anything Muppet characters used on Sesame Street.
Little Anything patterns are smaller than Green or Lavender, and are often used for children and small animals like the Three Little Pigs.
Though the pattern is basically identical, there are three primary color variants: hot pink (Prairie Dawn), reddish-magenta (Roosevelt Franklin), and Pumpkin-Orange (Ernestine). A lavender variation was also used at one time, as well as a green version without the regular Green's cone-shaped head. There was also a brown variation used a couple of times on the show. Beginning in season 50 a blue version has been used. Unlike the previous designs, this little version retains the same type of round shape as its larger Fat Blue counterpart.
Examples of Sesame Street characters made from Little Anythings include the following:
Hot Pink
Others
Reddish-Magenta
Others
Pumpkin Orange
Others
Light Green
Brown
Lavender