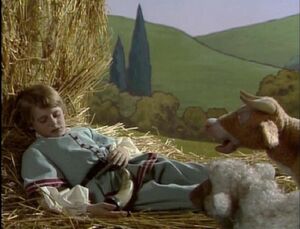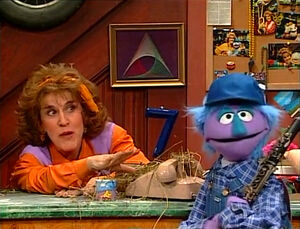 Little Boy Blue is an English nursery rhyme first printed in 1744, but its origins may date back further.
Adaptations
References
Sesame Street Episode 3154 involves Ruthie trying to sell Little Boy Blue's horn to Prairie Dawn at, but she doesn't want the animals that the horn attracts. Herry Monster blows the horn while browsing at Finders Keepers, bringing sheep and cows into the store, driving Herry away. Little Boy Blue then trades in his clarinet, which attracts cats and dogs for his old horn. Biff and Sully announce that the horn was one of the sponsors of the show, along with the letters B and Q and the number 1, and blow the horn at the end of the show, causing yet another stampede.
In a Sesame Street puzzle, Grover once again takes the place of Little Boy Blue, this time called "Small Monster Blue." The image was later used in the 2008 book Storybook ABCs.