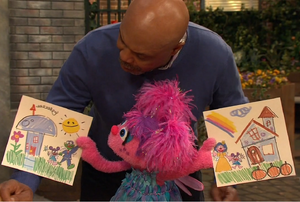 Little Children, Big Challenges: Divorce is a Sesame Street resource kit and video released online on December 10, 2012, with the full version of the video going online the next day, December 11. Like other resource video kits, it is also being made available on DVD to military families and to the general public through various family courts, counseling services, parenting and child care programs, and related outlets.
The 22-minute video features Elmo, Rosita, Gordon and Abby Cadabby. Abby explains that her mommy and daddy are divorced and shares the emotions she went through.
The resource video and support materials are part of Sesame Workshop's resiliency initiative Little Children, Big Challenges. The bilingual, multimedia outreach initiative focuses on helping children increase self-awareness, boost self-esteem, and persevere through changes.
The video is the show's second attempt to explain the subject of divorce. Previously, they tried to show Snuffy's family going through the turmoil of divorce in an unaired 1992 episode, "Snuffy's Parents Get a Divorce," but it failed in the testing phase due to the emotions depicted being a bit too realistic, leaving the test audience upset. The producers went on a different route in making this project, focusing on how Abby has gotten over the divorce rather than going through the process.
The online kit also includes mp3 downloads of the "Bird Family" and "Big Feelings" songs from the video.
Releases
Credits
Executive Producer: Carol-Lynn Parente
Co-Executive Producer: Kevin Clash
Supervising Producer: Melissa Dino
Senior Producer: Tim Carter
Producer: Benjamin Lehmann
Directed by Kevin Clash
Written by Christine Ferraro
Starring The Muppets of Sesame Street
Cast
Senior Muppet Consultant: Kevin Clash
Assistant Muppet Captain: Matt Vogel
Jim Henson's Creature Shop: Jason Weber, Rollie Krewson, Connie Peterson, Andrea Detwiler, Colette Nickola, Anney Ozar, Michelle Hickey
Music Director: Bill Sherman
Music Director - Arrangements: Joe Fiedler
Music Director - Studio: Paul Rudolph
Music by Bill Sherman and Joe Fiedler
Composers: Kathryn Raio and JP Rende
Senior Vice President, Outreach and Educational Practices: Jeanette Betancourt, Ed.D.
Production Designer: Bob Phillips
Associate Director: Ken Diego
Sound Effects: Dick Maitland, C.A.S.
Cameras: Frank Biondo, Jerry Cancel, Shaun Harkins
Production Assistants: Rachel Colleen Smith, Andrew Moriarty, Maxwell Nicoll
Animation by Magnetic Dreams
DVD Production: Frank Campagna, Franco Schettino, William D'amico
Taped at Kaufman Astoria Studios
Executive Vice President, Education, Research and Outreach: Lewis Bernstein, Ph.D.
See also
External links
Community content is available under
CC-BY-SA
unless otherwise noted.