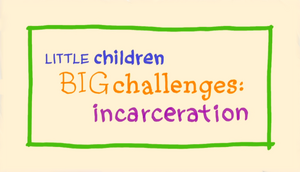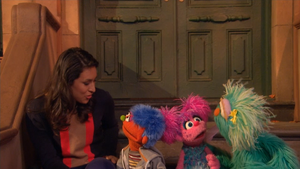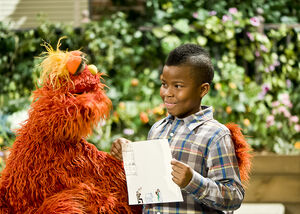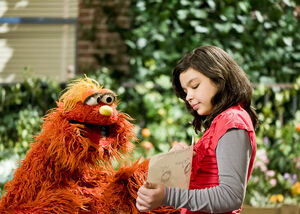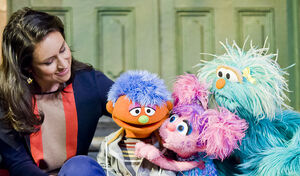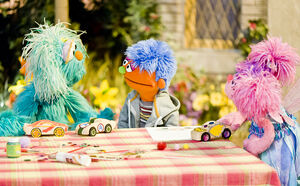 Little Children, Big Challenges: Incarceration is an educational resource video from Sesame Street released in 2013.
The video deals with children who have a parent in jail and introduces a new Muppet character, Alex, who appears with Abby, Rosita and a new human friend, Sofía. Murray Monster also appears, interviewing kids about the word "incarceration" and how they feel about having imprisoned parents. The video also features a new song - "You're Not Alone."
On March 3, 2015, the video won a Cynopsis Social Good Award for "Human Rights Campaign/Initiative".
Credits
Executive Producer: Carol-Lynn Parente
Supervising Producer: Melissa Dino
Senior Producer: Tim Carter
Producer: Mindy Fila
Directed by Ken Diego
Written by Christine Ferraro
Starring The Muppets of Sesame Street:
Featuring:
Muppet Captain: Matt Vogel
Jim Henson's Creature Shop: Jason Weber, Rollie Krewson, Connie Peterson, Lara MacLean, Liz Hara, Rachel Mercer, Joe Roddy, Jason Seck
Music Director: Bill Sherman
Music Director - Arrangements and Orchestrations: Joe Fiedler
Music Director - Vocals: Paul Rudolph
Music by Bill Sherman and Joe Fiedler
Composer: Alex Lacamoire
Senior Vice President, Outreach and Educational Practices: Jeanette Betancourt, Ed.D.
Child Talent: Carolyn Volpe and Meredith Kecskemety
Production Designer: Bob Phillips
Graphics: Pete Ortiz
Associate Director: Benjamin Lehmann
Control Room PA: Geri Cole
Sound Effects: Dick Maitland, C.A.S.
Cameras: Frank Biondo, Mark Britt, Pat Minietta
Production Assistants: Andrew Moriarty, Maxwell Nicoll, Rachel Colleen Smith, Julia Guidera
Animation by XYZ Studios
Title Sequence and Transitions: Magnetic Dreams
DVD Production: Frank Campagna, Franco Schettino, William D'Amico
Executive Vice President, Education, Research and Outreach: Lewis Bernstein, Ph.D.
Taped at Kaufman Astoria Studios
See also
External links