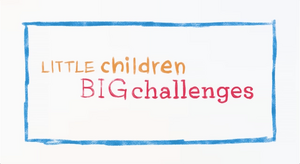 Little Children, Big Challenges is the third video in the Sesame Street resource video series of the same name, released in December 2013.
The 23-minute feature stars Elmo as he faces various challenges throughout his normal day, emulating similar ones real kids go through. The video also features new music videos and a new animated Twiddlebug segment.

| Picture | Segment | Description |
| --- | --- | --- |
| | SCENE 1 | It's drop-off time at Elmo's pre-school, but he doesn't want to leave his daddy. Together, they come up with some strategies to make saying goodbye fun. Louie also leaves him with a kiss, so he can have some of his dad throughout the day. |
| | Song | "Bye Bye for Now" |
| | SCENE 2 | Elmo's classmates Jane, Melissa and Tim run around the room playing superheros, while Elmo plays alone. His teacher, Ms. Betancourt, encourages him to play with them. Elmo tries, but they point out they only have the three costumes. Coming up with a new strategy, Elmo decides to play a monster they save from a lion. |
| | Animation | The Twiddlebugs go out for a lovely day, but Timmy and Tina argue over what they should do. When they see each of their activities (see-sawing and swinging) won't work with one Twiddlebug, they work together and take turns. |
| | SCENE 3 | While Cookie Monster feeds the birds, Elmo arrives outside with two Hooper's Store cookies. Cookie catches a whiff, but learns they're the last two. While Cookie wallows in despair, Elmo wonders if he should share. He ultimately does, but his cookie is knocked over and gobbled up by the birds. Cookie breaks his in half and shares with Elmo. |
| | Song | Cookie Monster sings "I Can Be Patient." |
| | SCENE 4 | At bedtime, Elmo struggles to button his pajamas and gives up. Louie shows him that, like many other things he can do, he just in't able to do it yet. He sings about the concept to Elmo ("Yet"), who's finally able to button them up. Louie sets Elmo into bed as he reads Elmo a story. |
Credits
Executive Producer: Carol-Lynn Parente
Supervising Producer: Melissa Dino
Producer: Mindy Fila
Directed by Matt Vogel
Written by Christine Ferraro
Starring The Muppets of Sesame Street
Muppet Captain: Matt Vogel
Jim Henson's Creature Shop

Puppets, Costumes and Props: Jason Weber, Connie Peterson, Rollie Krewson, Lara MacLean, Elizabeth Hara, Jane Pien, Sierra Schoening, Sarah Lafferty
Production Crew: Melissa Creighton, Joe Roddy, Jonathan Ehrich

Music Director: Bill Sherman
Music Director - Arrangements and Orchestrations: Joe Fiedler
Music Director - Vocals: Paul Rudolph
Music by Bill Sherman and Joe Fiedler
Composers: Chris Jackson, Alex Lacamoire, Kathryn Raio, JP Rende
Senior Vice President, Community & Family Engagement: Jeanette Betancourt, Ph.D.
Production Designer: Bob Phillips
Graphics: Pete Ortiz
Associate Director: Benjamin Lehmann
Sound Effects: Dick Maitland, C.A.S.
Cameras: Frank Biondo, Jerry Cancel, Shaun Harkins
Production Assistants: Andrew Moriarty, Katie Robinson, Rachel Colleen Smith
Animation by Magnetic Dreams
DVD Production: Frank Campagna, Franco Schettino, William D'Amico
Executive Vice President, Education, Research and Outreach: Lewis Bernstein, Ph.D.
Taped at Kaufman Astoria Studios
External links
Community content is available under
CC-BY-SA
unless otherwise noted.