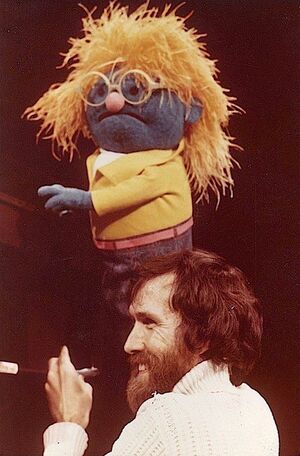 Little Chrissy (occasionally addressed as Chrissy or Chris) is the lead singer and piano player for Little Chrissy and the Alphabeats. He is voiced by his namesake, Christopher Cerf, who also wrote most of the character's songs. Jim Henson often performed the actual puppet until his death in 1990.[1]
Little Chrissy and the Alphabeats first appeared on Sesame Street in 1973, performing the song "Count it Higher." Other songs by the band include "Exit," "You're Alive," "Rock 'N Roll Readers," and "Cluck Around the Clock." Little Chrissy has sometimes been backed by Big Jeffy from Little Jerry and the Monotones (often filling in for the Lavender Alphabeat) in the songs "Gonna Rock You to Sleep," "I Go to School," and "Startin' Kindergarten." Chrissy and Jeffy often appeared together in the late 80s/early 90s as a duo in street scenes, including a few numbers with Elmo. Additionally, Chrissy has also been referenced as a member of Little Jerry's band, in Episode 2867 and Episode 2972.
Little Chrissy occasionally performed without the Alphabeats, in songs such as "Eight Balls of Fur," "Raise Your Hand," "The Opposite Song," and "Wet or Dry."
His latest appearance to date occurred in Season 30, acting as piano accompanist to Patti LaBelle's rendition of "Gospel Alphabet."
Notes
Besides Henson, other performers who have puppeteered Little Chrissy include Frank Oz in a sketch where Don Music rewrote "Yankee Doodle,"[2] Richard Hunt in "Rock 'N Roll Readers,"[3] and Kevin Clash in "Eight Balls Of Fur"[3], "Cluck Around the Clock" and "Gospel Alphabet"[4].
In "Eight Balls of Fur," Little Chrissy demolishes his piano from aggressively playing it. This was a reference to Cerf's reputation for breaking so many pianos in the studio over the years.[5]
A monster closely resembling Little Chrissy and voiced by Chris Cerf appeared as one of the Frazzletones in the song "Frazzle."
Episodic appearances
Book appearances
See also
Sources
Community content is available under
CC-BY-SA
unless otherwise noted.