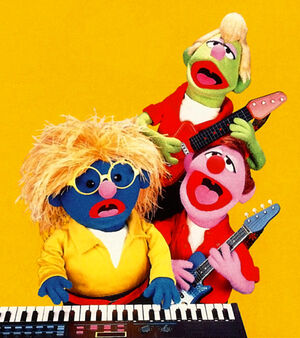 Little Chrissy and the Alphabeats are a Sesame Street rock group that first appeared in season 5 in 1973. The leader is Little Chrissy, backed up by Green and Lavender Anything Muppets in red shirts with pompadour hairstyles known as the Alphabeats.
The performers for the group included Christopher Cerf as Little Chrissy. The voices of the back-up Alphabeats varied, including Cerf, Richard Hunt, Jerry Nelson, Paul Jacobs and Jeff Moss (who often provided bass vocals for the Lavender member in later appearances).
While the group was usually a trio, their first appearance, "Count it Higher," featured an extra Hot Pink Alphabeat (voiced by Jerry Nelson and puppeteered by Frank Oz[1]). The other two Alphabeats originally had a wilder, open-eyed appearance and had different hairdos; the Green Alphabeat had black hair, and the Lavender one was a blonde. They were redesigned with eyelids and pompadours for subsequent appearances. In three street stories during season 14, a female Alphabeat (voiced by Ivy Austin) appears with the band. Her skin tone changes from Green in Episodes 1729 and 1824 to Lavender in Episode 1815.
In addition to performing their own numbers, the Alphabeats (with or without Little Chrissy) occasionally provided back-up for Don Music, including some 1970s "Sesame Street News Flash" skits and 1980s street stories (episodes 1729, 1814, 1824, 2043 and 2346). In the early 1990s, Big Jeffie (often appearing alongside Little Chrissy in street scenes as a duo at this point) appeared in place of the Lavender Alphabeat on a number of occasions, in the songs "Gonna Rock You to Sleep," "I Go to School," and "Startin' Kindergarten."

Songs
Album credit only
Notes
While Little Chrissy and the Alphabeats are only given credit for the album version of "One Way," with the TV version performed by a group of Anything Muppet greasers (the lead also voiced by Cerf), two of the greasers closely resemble the recurring two Alphabeats. Likewise, two AM singers backing up Don Music in Episode 1971 also resemble them.
Book appearances
Sources