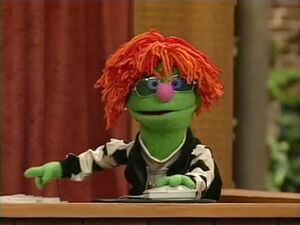 Little Jerry is the lead singer of Little Jerry and the Monotones and has performed several songs on Sesame Street, including "Four," "Telephone Rock," "Proud," and "Mad."
He was named after his performer Jerry Nelson, who recalled in a 2009 interview:
Little Jerry originally wore a hippie dashiki through the early 1980s. By Episode 2452 (1988), in which the Monotones visit Sesame Street, Little Jerry began wearing a flashy white and black leather jacket with a chain necklace. For the band's concert performance in Episode 3898 (2000), he also sports a pair of sunglasses.
Though Little Jerry is male in the domestic show, in one Shalom Sesame sketch, in which an actress dubbed the character for "Proud," host Mandy Patinkin introduced the rocker as female: "Little Jeri (sic) is loud and proud, and why shouldn't she be?"
In the song "Mad," Little Jerry mentions having a naughty little brother and a mother who blames him for the former's misbehavior. He also mentions them in Episode 2452, which makes him mad again.
Evolution and performer history
Little Jerry's design evolved from the Anything Muppet hippies that frequently appeared in the first season of Sesame Street. A Green mop-haired drummer (performed by Jim Henson) sang a cover of "Spinning Wheel." A similar dashiki wearing Green AM (Frank Oz) appeared in "Before and After."
The puppet design continued to appear in season 2 with some variations; with lavender skin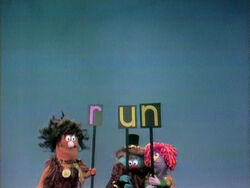 in a sketch on the word "run," and sporting black hair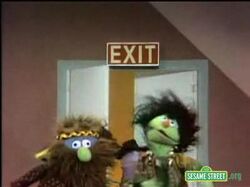 in three other segments, one with Grover demonstrating "exit," the remake of "Before and After," and a series of R quickies in Episode 0195. Fran Brill performed the puppet a few times in an early sketch with Grover teaching the word "walk," another sketch where a group of hippies spell the word "RUN," and the rock and roll section of a group of hippies dancing to the music in the R quickies scene in 0195. Frank performed the puppet again in "The Word." Caroll Spinney performed the puppet in the remake of "Before and After."
The original version of "Surprise" featured a black-haired Lavender AM (Jerry Nelson) singing lead vocals. "Mad" marked the first definitive appearance of the Monotones, and Little Jerry's design would remain mostly consistent from this point forward.
Video appearances
Book appearances
Sources