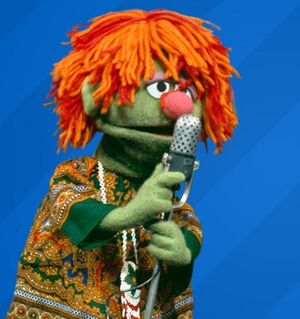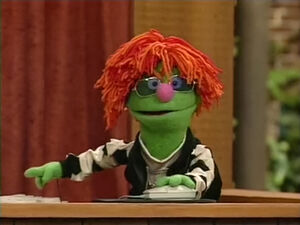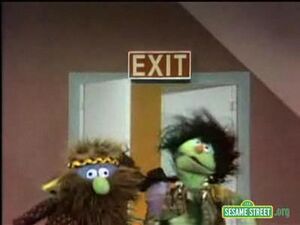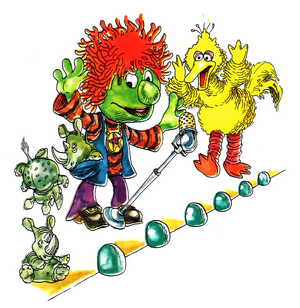 Little Jerry is the lead singer of Little Jerry and the Monotones and has performed several songs on Sesame Street, including "Four," "Telephone Rock," and "Mad". He also appeared without the Monotones in a first season sketch with a group of other hippies (and the early Grover) demonstrating "Foward" and "Backward" with a Hot Pink Anything Muppet leading the lecture. (First: Episode 0069)
Although Little Jerry usually appeared as a redhead, he had black hair in one sketch where Grover talked about the word "exit". (EKA: Episode 0261)
Little Jerry's style and apparel was updated by the 1980s; his original hippie clothing was exchanged for a white and black leather jacket and a chain necklace. In the band's comeback appearance in a 2000 episode, he also sports pair of sun glasses.
Little Jerry is considered to be male, but in one Shalom Sesame sketch, in which an actress dubbed the character for "Proud," host Mandy Patinkin introduced the rocker as female: "Little Jeri (sic) is loud and proud, and why shouldn't she be?."
Little Jerry was named after his performer Jerry Nelson. Though on one occasion, Fran Brill performed him, while Nelson was performing Big Jeffy, in a sketch where Grover and the Monotones demonstrate the word "walk".
Jerry Nelson later talked about the character and his group in a 2009 interview:
"

Little Jerry was Jeff Moss' thing. I think deep in his heart he wrote that because he loves to sing bass. They were wonderful pieces. They were so much fun to do.[1]

"
Video appearances
Book appearances
Sources
↑ Nelson, Jerry Tough Pigs Interview