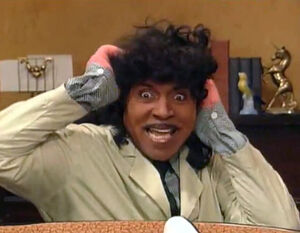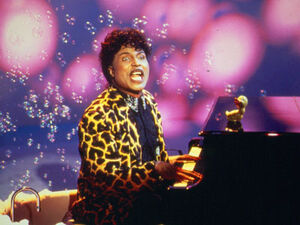 Little Richard (1932-2020) was a rock 'n' roll singer who rose to fame in the 1950s with such hit songs as "Tutti Frutti" and "Good Golly, Miss Molly." An early pioneer of rock 'n' roll, Penniman has influenced generations of rhythm and blues and rock music artists. His original injection of funk into the rock 'n' roll beat in the mid-1950s also had a profound influence on the development of the genre.
Little Richard has appeared with the Muppets several times:
Not known as an actor, he has made appearances on Baywatch, Miami Vice, and as himself on The Simpsons, Pee-wee Herman's Christmas Special, Full House, Columbo and the Murder of a Rock Star, and the soap operas One Life to Live and The Young and the Restless.
Among his many musical appearances on television are A Capitol Fourth, American Bandstand, The 3rd Annual TV Land Awards, and appearances on the game shows Family Feud and Hollywood Squares.
Richard has also been awarded an Honorary Lifetime Achievement Grammy Award, a star on the Hollywood Walk of Fame, and two keys to the city of Providence, Rhode Island.
Trivia
"Little Richard" was born Richard Wayne Penniman.
External links