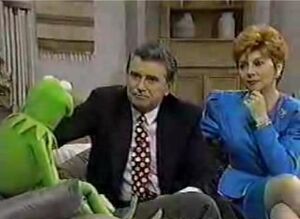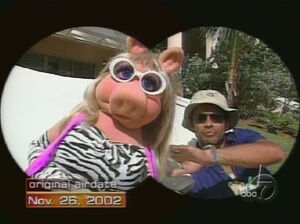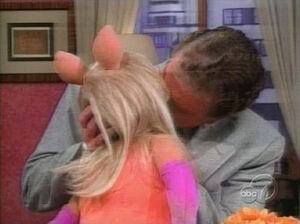 Live! is a nationally syndicated daytime talk show best known for it's hosts Regis Philbin (1988-2011), Kathie Lee Gifford (1988-2000), and Kelly Ripa (2001-present). With the changing of co-hosts throughout the years the show has had several variations on its name, several of which have featured appearances by the Muppets.
Appearances
Live! with Regis and Kathie Lee
July 13, 1999 — Piggy appears to promote the release of Muppets from Space. She shares a long kiss with Regis which is later shown during the November 29, 2002 and May 19, 2005 broadcasts.
Live! with Regis and Kelly
December 24, 2001 — Kermit the Frog appears.
November 26, 2002 — Piggy is caught on camera sun-bathing with Kelly Ripa's husband, Mark Consuelos.
December 8, 2006 — Kermit the Frog promotes his book Before You Leap as well as the Muppets' holiday album A Green and Red Christmas with Kelly and guest host Anderson Cooper. A clip of this appearance was shown for their 10th anniversary when Cooper made a guest appearance.
Live! with Kelly
Live! with Kelly and Michael
March 17, 2014 — Tina Fey appears to promote Muppets Most Wanted.
February 2, 2016 — Kermit appears to promote The Muppets.
Mentions
For their 2010 Halloween show, Regis and Kelly dressed up as Elmo and Katy Perry, a reference to the "Hot and Cold" segment. This was also shown during a montage of Halloween shows on their 10th anniversary.
During the Live! with Michael and Kelly 2012 Halloween special, someone wore a Big Bird costume.
During 2019's Live with Kelly and Ryan, Kal Penn showed a photo of his childhood Halloween costume as Ernie.
References
External links