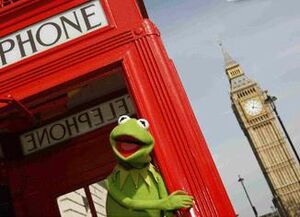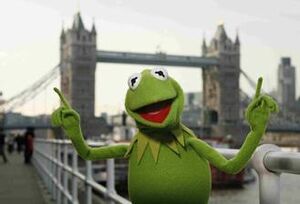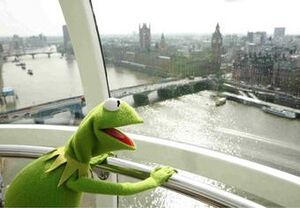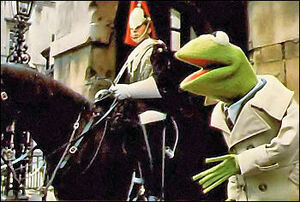 London is the capital of the United Kingdom and England. A resident of London is referred to as a Londoner.
In 2006, Kermit the Frog appeared in London for his 50th Anniversary World Tour to report on the London Marathon.
The Great Muppet Caper
Much of The Great Muppet Caper takes place in London, as Kermit, Fozzie and Gonzo travel to Great Britain. Apart from such real locales as Trafalgar Square, Tower Bridge and the Thames River, London locations in the film include the Happiness Hotel, the Dubonnet Club, No. 17 Highbrow Street, and the Mallory Gallery.
Fraggle Rock
Thanks to the UK co-production of Fraggle Rock, Uncle Traveling Matt was able to film segments in London.
London in the Studio
Productions in London
Many Henson films and TV shows were shot in London, including The Muppet Show, The Dark Crystal, Labyrinth, The Muppet Christmas Carol, Muppet Treasure Island, and most recently Muppets Most Wanted.
Jim Henson's Creature Shop was based in London.
Storybooks
Baby Gonzo visits London Bridge in London in the 1986 Muppet Babies storybook Gonzo Saves London Bridge.
Appearances
Elmo posted pictures of his vacation in London on Facebook in 2010.

Elmo, Grover and Abby Cadabby visited London for the 2012 Olympic Games. Photos of their trip were posted on Sesame Street's official Facebook page.