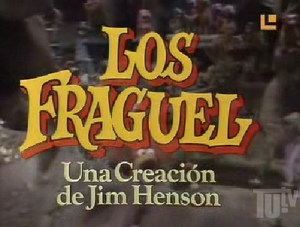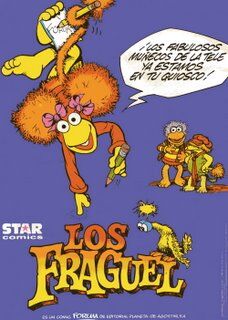 Los Fraguel is Spain's version of Fraggle Rock, originally broadcast over TVE in the 1980s. Like most of the international versions, it was a dub, with no new Doc or postcard footage.
However, the dub translated more episodes than most, only omitting "The Gorg Who Would Be King", and "Change of Address".
The series' popularity in Spain led to translations of the Marvel Comics comic book, as well as such unauthorized tributes as an alternative rock band called "Los Fraguels" and a Fraguel Rock Bar in Madrid, with Boober in the logo.
In 2003, original puppets of Gobo, Wembley, and Red were donated to the "Museu Internacional de Titelles de Albaida," located in Valencia, in honor of the series' 20th anniversary.
In 2005, the first season was released on DVD in Spain.
In 2020, a Castilian Spanish dub was produced by Deluxe Spain for Apple TV+, including the previously untranslated episodes. While the characters' dub names are kept; the Castilian Spanish credits used the original English names.
Voices
TVE dub
Apple TV+ dub
Additional voices

Santi Aguirre (Sprocket), Luna Donate, Sofía Heras, Cristian Pinilla, Roberto Rodríguez
Dubbing credits[1]

Studio: Deluxe Spain
Adapter/dubbing director: Santi Aguirre
Recording engineer: Sergio Mallo
Mixing engineer: David Brugalla
Producer: Mariano García
Merchandise
Museu Internacional de Titelles de Albaida
Sources
External links
Community content is available under
CC-BY-SA
unless otherwise noted.