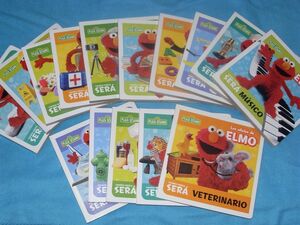 Los oficios de Elmo ("The Occupations of Elmo") is a series of Plaza Sésamo Spanish language board/puzzle books published by Cuatro Media Inc. in 2008. Each of these board books is subtitled "cuando crezca será" ("When I grow up, I will be") and examines a different profession, starring Elmo. The books contain ten pages each (consisting of photos of the characters), with the left side containing text, while the right is a jigsaw puzzle. Basic vocabulary words and phrases relevant to the occupation are included, as well as the names of each Muppet character.
Other characters include Ernie, Bert, Zoe, Lola, Pancho Contreras, Cookie Monster, Grover (and Super Grover), Rosita, Big Bird, Oscar the Grouch, and Count von Count.
The series (ISBN 9789871456024) consists of fifteen titles: Músico, Arquitecto, Maestro, Doctor, Jardinero, Arqueólogo, Escritor, Bombero, Plomero, Cocinero, Atleta, Marinero, Veterinario, Fotógrafo and Astronauta.
External links