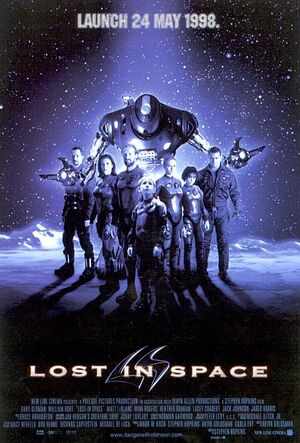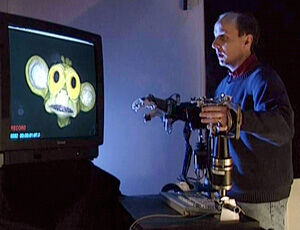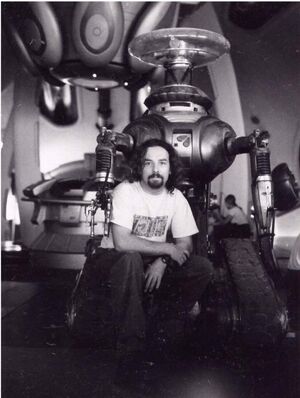 Lost in Space is a 1998 movie based on the 1960s television series of the same name. The film featured digital and animatronic effects by the Jim Henson Creature Shop, for the characters of Blawp and the Robot.
Cast
William Hurt as Prof. John Robinson
Mimi Rogers as Dr. Maureen Robinson
Lacey Chabert as Penny Robinson
Heather Graham as Dr. Judy Robinson
Jack Johnson as Will Robinson
Gary Oldman as Dr. Zachary Smith
Matt LeBlanc as Maj. Don West
Jared Harris as Older Will Robinson
Edward Fox as Business Man
Dick Tufeld as voice of Robot
Gary Hecker as voice of Blawp
Jim Henson's Creature Shop
Blawp puppeteers: Michelin Sisti, David Barclay, Wim Booth, Sue Dacre, Gillie Robic, Peter Hurst, Patrick Cummerford, Katherine Smee,
Principal Robot puppeteer: William Todd Jones
Robot puppeteers: Simon Buckley, Phillip Eason, Nigel Plaskitt, John Wheatley
Creature Shop supervisor: John Stephenson
Creative project supervisor: Verner Gresty
Creature Shop producer: Roma O'Connor
Key sculptors: David Darby, Kevin O'Boyle, Chris Fitzgerald
Sculptors/pattern makers: Jamie Campbell, Brendan Lonegan, Ivan Manzella, James Miller, Chris Trice (as Chris Tice)
Key animatronic designers: David Dunsterville, Steve Chesters, Chris Coxon, Richard Darwin, Kevin Hunter, Clive Nicholson, Edward Ragit, Brian Trenchfield, Simon Williams
Animatronic designers: Daniel Burnett, Robin Ellis, Simon Hewitt, Chris "Flimsy" Howes, Mark Hunter, Jamie Jackson-Moore, Jamie Lawrence, Jessie Riley, Bill White, Adam Wright
Workshop supervisor: Geoff Paige
Art finishers: Tacy Kneale, Maria Cork, Diane Staniforth
Model/mold shop supervisor: Kenny Wilson
Foam lab supervisor: Marie Fraser
Fabricator: Denise Baseley
Mold makers: David Kelly, Chris Babbage, Mel Coleman, Steve Court, Terry Sibley
Electronics supervisor: Julian Manning
Electronics technicians: Pete Bell, Kevin Kerrigan, Phil Ross
Robot control systems designer: Matthew Denton
'Blawp' animation unit

Visual effects producer: Michael Turoff
Supervisor: Hal Bertram
Creature supervisor: Karen Halliwell
Animation supervisor/puppeteer: Mak Wilson
Systems: Derek Hedicker, Iain Powell
Animators: David Barclay, Martin "Smoke" Carroll, "Just" Jules Findley, Jeff Newton, Joelle Newton-Mold, Richard Smith, Susan Strugar, Sarah Tosh, Mary Victoria, Richenda Wheeler
Production assistants: Nick Drew, Lynda Thompson
Trivia
In addition to his Creature Shop work, John Stephenson was also second unit director for the film.
Lost in Space was the film to knock Titanic from the number one spot in the box office after 15 weeks at the top.
Debbie the Bloop from the original series was included on Animal Planet's 50 Greatest TV Animals.
External Links
Community content is available under
CC-BY-SA
unless otherwise noted.