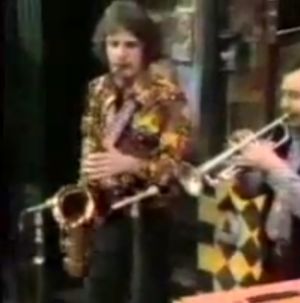 Lou Marini (b. 1945) is a musician, primarily a saxophone player but also other reeds, who has worked on several Sesame Street projects. He appeared on-camera as part of Stevie Wonder's band in his 1973 guest appearance on Sesame Street, playing sax on "123 Sesame Street" and "Superstition."
Marini's Sesame association continued, including the 1978 album Sesame Street Fever (on various reeds). As Marini recalled in an online interview in the 2000s, "I still record often for Sesame Street."[1] He also performed flute for Bob McGrath in his 2007 album Bob! from Sesame Street: Christmas Sing Along and was heard in the 2011 Kevin Clash documentary Being Elmo: A Puppeteer's Journey as one of the musicians for the end title theme "Puppet Man."
Though his recording and live performance accomplishments are many, playing with musicians as varied as James Taylor and Buddy Rich, Marini's face is most familiar as a member of The Blues Brothers band, nicknamed "Blue Lou"; in that capacity, he performed on Saturday Night Live (and as part of the regular house band), in the 1981 film (playing sax in Aretha Franklin's diner), and the 1998 sequel Blues Brothers 2000, as well as various albums.
Sources
External links
Community content is available under
CC-BY-SA
unless otherwise noted.