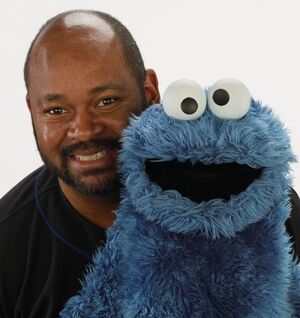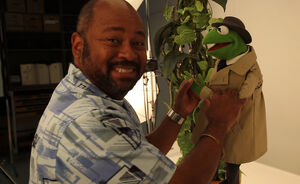 Louis Henry Mitchell is the Creative Director of Character Design of Sesame Workshop, given that title because he has so many duties.[1] He started working on Sesame Street in 1992. His responsibilities include directing photos of the Sesame Street Muppets, designing DVD covers, designing and co-sculpting the Macy's Sesame Street floats, art directing walk-around versions of the characters, and drawing storyboards. He also co-designed Kami[1] and created and designed Julia, the new Sesame Street Autistic character, both as the illustrated book character as well as designing and art directing the building of the actual Muppet.
In a 2009 interview, Mitchell talked about how he got his job with Sesame Workshop:
"

To be honest it started back in 1966- when I was 6 years old. I saw The Muppets on The Ed Sullivan Show when one night Jim Henson came out and still had a Muppet on his hand- even though I didn't know who he really was it was THEN that I realized that a MAN was doing the Muppets. When you're a kid you don't usually think about how puppet shows and cartoons are done. You just enjoy them. Jim Henson changed my life when he revealed himself as the puppeteer behind my favorite puppets. Then 3 years later I saw "The Muppets on Puppets" on PBS. Because of the music and performance I just went NUTS- a whole WONDERWORLD opened up for me then and I started drawing more and writing stories- even snuck into the basement to teach myself how to play the piano so I could write music for my stories! (And I was FIERCELY afraid of that basement at 6 years old! But Jim Henson inspired me beyond that fear- all I wanted was to be creative like him!!!). Not to make this TOO long- that was when I was HOOKED and developed the desire to work for him.

I wanted the Classic Muppets- but over the years he seemed to consider Sesame Street his most important work. So the dream became to work on Sesame Street. I had no idea how I was going to attain this! I just KNEW I had to find a way. Beating some serious odds and some discouragement that my Mom helped me beat with her astounding encouragement I offered my work to The Muppets and after several tries I was called in by a man named Jim Mahon (my teacher and mentor for drawing Muppets). He was the character designer and art director at that time and he pretty much hired me on the spot after we met for the interview. That was back in 1992. In 2000 they called me while I was working as an artist for MTV and I was hired into his position. I have been promoted since then to my current position. I am very grateful to Jim Mahon!![1]"
Gallery
Sources
↑ 1.0 1.1 1.2 Henry Louis Mitchell, Interview with the Muppet Mindset, September 30, 2009.
External Links
Community content is available under
CC-BY-SA
unless otherwise noted.