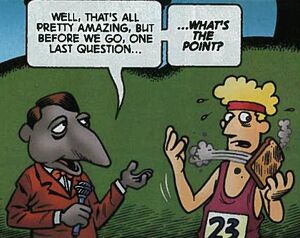 Louis Kazagger is a Muppet sportscaster who provided commentary for the Muppet Sports sketches on The Muppet Show. Loosely inspired by Howard Cosell, Kazagger wore extreme plaids like Cosell, and also spoke with a similar nasal twang.[1]
Kazagger reported with aplomb on absurd sporting events, from his debut in the third season through the fifth season. In the Lynn Redgrave episode in the third season, as part of that episode's extended "Robin Hood" sketch, Kazagger provides sports commentary and analysis for the big archery tournament.
Kazagger's film appearances include background bits in The Muppet Movie and The Muppets Take Manhattan, and a significant cameo in The Great Muppet Caper, providing the play-by-play while Kermit the Frog and friends try to wrest the Baseball Diamond from Nicky Holiday. Kazagger's last hurrah came in 1992, appearing in a series of sports sketches for Good Morning America. There, he interviewed Gonzo about the Geek Winter Games and discussed the sport of Demolition Speedskating.
Kazagger was last seen in puppet form in the background of some scenes in Muppets Tonight (usually as a member of the audience) but has since made appearances in the comic books Muppet Robin Hood and The Treasure of Peg-Leg Wilson, once again commenting on such ridiculous sporting events as Long-Distance Toast Hurling.
Appearances
Book appearances
Sources