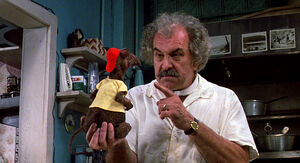 Louis Zorich (1924 - 2018) was an American character actor who played Greek restaurateur Pete in The Muppets Take Manhattan.
Often typecast as weary European immigrants or Jewish paternal figures, Zorich played Paul Buchman's father Burt on the sitcom Mad About You, Milo Simonelli on the soap opera Another World, and has guest starred as two different judges on Law & Order.
Film credits include such varied ethnicities as the Russian Constable in Fiddler on the Roof, a Greek millionaire in Frank Oz's Dirty Rotten Scoundrels, a Swiss businessman in Club Paradise, and Jewish diner owner Mindy in Bloodhounds of Broadway, as well as parts in such off-beat movies as the 1966 Japanese entry Gammera the Invincible or 2004's A Hole in One, an independent film about lobotomies.
Zorich has also appeared in nearly two dozen Broadway productions, including The Odd Couple (as the standby for Walter Matthau's Oscar Madison), Moby Dick, and Stephen Sondheim's Follies. He also appeared in taped-for-TV versions of the stage plays Death of a Salesman as Dustin Hoffman's brother Ben (reprising his Broadway role), and Antigone as Jonas the guard. He was married to actress Olympia Dukakis.
External links