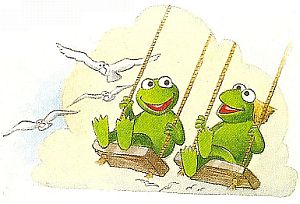 Louise is a frog who appears in the Jim Henson's Bedtime Stories tale "Robin and the New Neighbor." Robin seeks to befriend her when she moves into his neighborhood, some time after the departure of his best friend Binky.
Louise disappoints the pretzel-loving Robin, however, since she has an allergic reaction to wheat products. When playing Robin Hood together, Louise prefers to be Maid Marian instead of Little John, and she's an expert at jigsaw puzzles, not needing Robin's assistance.
However, Louise and Robin eventually bond over the swingset, as Robin helps Louise overcome her dizziness. A grateful Louise gives Robin a green Robin Hood hood. Robin concludes that she's not so bad, but insist that Maid Marian learn how to swing on vines.
See also
Community content is available under
CC-BY-SA
unless otherwise noted.