m

Line 8:
Line 8:
 

==Credits==

 

==Credits==

 
 
−

[[The Muppet Show]]: [[Annie Sue]], Zelda Rose

+

[[The Muppet Show]]: [[Annie Sue]], Zelda Rose

 
⚫
−
 
 
⚫
⚫
 
 
+

* ''[[The Ghost of Faffner Hall]]'': Fughetta Faffner

−
 
 
⚫
⚫
 
 
⚫
−
 
−

[[The Ghost of Faffner Hall]]: Fughetta Faffner

+

[[The ]]:

 
⚫
−
 
 
⚫
⚫
 
 
⚫
−
 
 
⚫
⚫
 
−
 
−

[[Jim Henson's The Secret Life of Toys]]: Hortense, Raisin

 
−
 
⚫
 
−
 
⚫
 
−
 
⚫
 
−
 
⚫
 
 
 
 

==External Links==

 

==External Links==

−

[http://www.qsulis.demon.co.uk/Website_Louise_Gold/Start.htm Fan page with extensive info.]

+

[http://www.qsulis.demon.co.uk/Website_Louise_Gold/Start.htm Fan page with extensive info.]

 
⚫
−
 
⚫
 
 
 
 

[[Category:Muppet Performers|Gold, Louise]]

 

[[Category:Muppet Performers|Gold, Louise]]
---
Revision as of 01:16, 10 January 2006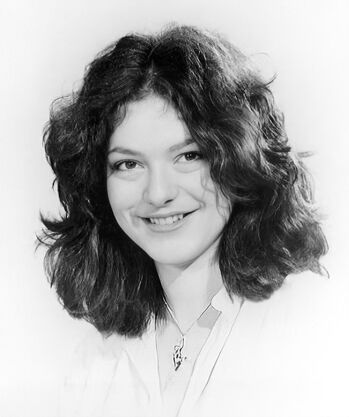 Louise Gold (b. 1956) is an actress and puppeteer who has done extensive stage work in England, as well as being a recurring puppeteer in various Muppet productions. She was the only British member of the Muppet Show performing team.
In the Muppet Show Fan Club newsletter (Vol. 3, No. 1, 1981), she described the hiring process: "They were looking for a girl strong enough and tall enough to manipulate the puppets. I think I was chosen for my size, not my talent!"
Credits
External Links
Community content is available under
CC-BY-SA
unless otherwise noted.