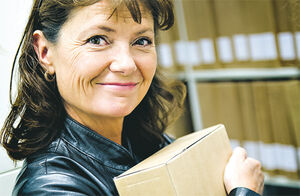 Louise Raeder (b.1962) is a Swedish actress who voiced Prairie Dawn on Lek med mig i Sesam (Play with Me Sesame). She previously voiced Rosie O'Gravy in the Swedish dub of Dog City and various characters in the 1996 version of Sesam.
Louise got her acting debut in 1974 in the play Jösses flickor - Befrielsen är nära!. In 1976. she helped to start Lasse Kühler's Dansskola (dance school) where, she also worked as a teacher. Some of her other stage credits include the title roles in the musicals Pinocchio and Pippi Longstocking and parts in Oklahoma! and Die spanische Fliege.
Her dubbing credits include The Polar Express, Cats and Dogs, The Borrowers and Inspector Gadget (dubbing Joely Fisher).