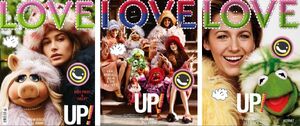 Love is a bi-annual British style magazine founded in 2009 by stylist and fashion journalist Katie Grand.
In July 2017, Kermit the Frog, Miss Piggy, Camilla the Chicken, Janice, Sam the Eagle, The Swedish Chef and Animal appeared in a photoshoot modelling clothes designed by Miu Miu. Fashion models included Kendall Jenner, Blake Lively, Hailey Bieber, and Doutzen Kroes.
#LoveMuppets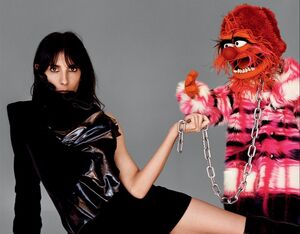 On December 25, 2017, the Love Magazine YouTube page posted a video in which Miss Piggy took on a photoshoot. The video was written by performers David Rudman, Eric Jacobson, and Matt Vogel.
In the video, the photographer Rankin, is given four and a half minutes to shoot her, but after she arrives she immediately falls asleep on the couch, and Scooter decides that even though Piggy's asleep they have to get her ready for the photoshoot and has Matty Bovan begin taking her measurements. Next they take her to make-up and Uncle Deadly has Rita Ora sing to her, after which he then snatches off her sunglasses waking her up. Derek Blasberg interviews Kermit, while wearing a matching coat, and Piggy has her photoshoot while "Smells Like Teen Spirit" plays. Once her four and a half minutes are up, the models ditch her for another model, making her sad. Kermit informs her it's time for the party for which she doesn't want to go, but he makes her keep her commitment. On the ride over Kermit attempts to cheer her up by telling her she was great, and they did what she asked, though she didn't want them to be be so literal. He then tells her they loved her, everyone loves her. They arrive and she's cheered up by the paparazzi, and declares "You love me, you really do love me." The video ends to "The Muppet Show Theme."