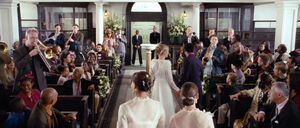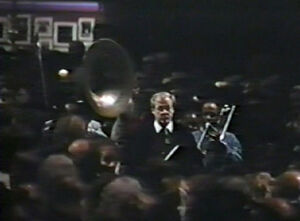 Love Actually is a 2003 Christmas romantic comedy written and directed by Richard Curtis. The film features an ensemble cast in a series of vignettes about a series of characters that are loosely connected, but have their own isolated stories.
Muppet Mentions
Curtis had attended Jim Henson's Memorial at St. Paul's Memorial in London and modeled the wedding sequence after the ceremony. He details his experience in the home video commentary track for the film (although he errs on the details concerning puppeteers and their characters):
"

Now if I can just say a little bit about this scene here. This was, in fact, inspired by Jim Henson's funeral, which was the most moving thing I've ever been to, and at the end of it, one of the ... Frank Oz was talking and he suddenly lifted up Kermit's puppet and started to sing this song called "One Voice" ["Just One Person"], and it turned out that all the guys in the, in the memorial service, had brought their puppets with them, and they lifted them up, and when you turned around and looked backwards, there were fifty puppets all singing, and Big Bird walked down the aisle of St. Paul's Cathedral. They all came forward, and just this massive chorus of puppets all singing. It was an extraordinary thing. So this was our little stab at that.

"
Connections
Community content is available under
CC-BY-SA
unless otherwise noted.