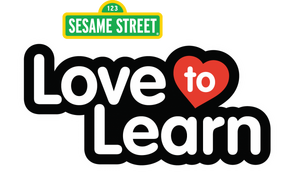 Love to Learn is a web-based campaign launched by Sesame Workshop in July 2016. Each month, Elmo and the rest of the Sesame Street Muppets will focus on certain topics with the help of well-known YouTube personalities and other celebrities. Special playlists for each topic will be housed on the show's official YouTube channel.
In addition to online videos, the campaign aligns with the release of a new DVD, iTunes collection and games on Sesamestreet.org.
Months
July (Animals)
"

Elmo meets Simon's Cat, star of one of the most popular animated channels on YouTube, and learns about funny cat behaviors like bath time and playtime! He even learns that he and Simon's Cat have a lot in common…they just do things a little differently!"

"
August (Games and Sports)
"

To celebrate the Olympics, Elmo and friends learn all about teamwork and sportsmanship with special guests (David Villa).

"
September (Ready for School)
"

Elmo gets ready for school with the hilarious Eh Bee Family. Elmo loves it all, from packing his backpack and having his picture taken, and gets some tips from the bigger kids who are already pros! Captain America star Anthony Mackie also shares a fun tip to help get kids ready for school.

"
October (Music and Dancing)
"

Superstar sisters Lennon & Maisy cover a new arrangement of the classic "I Don't Want to Live on the Moon" with Ernie. Plus, Jason Derulo and Tori Kelly teach Elmo new dance moves and how to play the guitar.

"
November (Cooking)
"

Cookie Monster celebrates his birthday by guest starring on Rosanna Pansino's Nerdy Nummies, one of the top three female-hosted channels on YouTube. Cookie Monster learns how to make chocolate chip cookies, his favorite!

"
December (Kindness)
"

The campaign comes to a close with a topic near and dear to Sesame Street's heart, kindness. Elmo and social media star Jérôme Jarre join forces on a mission to spread kindness throughout New York City! Plus, Grammy-winning country musical group Little Big Town gives Elmo tips on how to get along with your friends. Supporting Kindness Month, Random Acts of Kindness Foundation (RAK) will be providing family tools, activities and Sesame Street videos to demonstrate how little moments can have a big impact.

"
Sources
Community content is available under
CC-BY-SA
unless otherwise noted.